Shopping for a deal on lobsters online? Here are some pointers on how to buy good quality live lobsters.
Maine Lobsters
Maine lobsters are some of the best in the world. Found off the coast of northeast America, this particular species offers some of the richest, buttery meat available today. The Atlantic waters are clean with a rocky coast, making it ideal for lobster to flourish here. In cold waters, like that of the northern Atlantic, lobsters grow at a slower rate. It is because of this that Maine lobster meat is firmer and more succulent. The cool temperatures keep the salt water from permeating the meat. Don't be fooled by Rock lobster or Spiny lobster– these are warm water varieties and not in the same class. You'll often see these types of lobsters marketed as tails at the big warehouse clubs.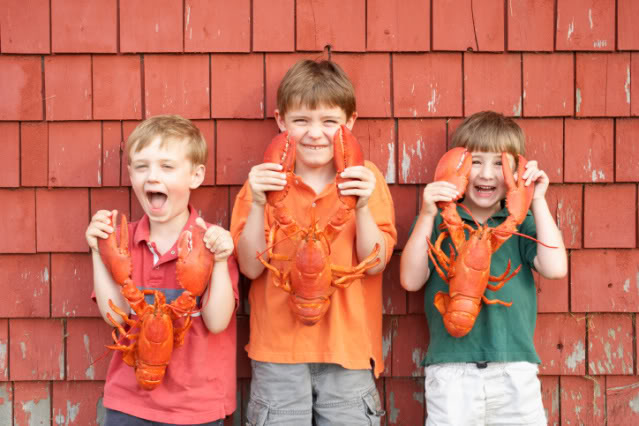 Grade A Live Lobster
Lobsters are graded by firmness and liveliness. The lower the grade, the softer the shell and less  lobster meat. Hard shell lobsters are the industry standard for quality.  A higher ratio of meat to shell means a better value. You'll want a good hard-shell lobster because it will be full of meat from claws to tail. When a lobster outgrows its shell, it molts and discards or "sheds" the old shell. It then has a soft shell and is called a "shedder." As the lobster feeds, its shell hardens, and it adds meat to its body. New shell lobster are usually harvested from late summer to early fall.
Live Lobsters
You will want to buy from a lobster company that grades each lobster for good hard-shell quality and fly out a ton a day.  You don't want lobsters that are swimming in the pounds for weeks. The texture and flavor deteriorate when stored for too long.  Healthy, feisty lobster will raise their claws and flap their tail when picked up. Lobsters with harder shells not only have more meat, but are hardier and ship well unlike their soft-shell counterparts. Some companies try and ship soft-shell or even firm lobsters because that's all they have in stock. In the end your likely to receive, cheap dead lobsters (D.O.A.).
Lobster Size
Graded lobsters are sold by size and by shell quality. While lobsters are graded by size it is best to buy healthy, stronger lobsters instead of ones that are a specific size. Lobsters come in different sizes, from under legal size to 20 pounds, a bit hard to cook at home. Most lobsters weigh about a pound to a pound and a half when they are caught. Typical lobster sizes are as follows:
Chix (also called chickens): 1.0 – 1.24 lb
Quarters: 1.25 – 1.49 lb
Halves: 1.50 – 1.74 lb
Deuces ( also called twos, two pounders, and selects): 2.0-2.25 lb.
Heavy Selects: 2 – 2.5 lb.
Jumbos:  Over 2.5 lb.
Lobster Delivery
LobsterAnywhere are lobster shipping experts, since 1999. Your hand-selected lobsters will packed live with seawater-soaked newsprint or fresh seaweed to keep them moist, and frozen ice gels to keep them cold. LobsterAnywhere ships Maine lobsters in high grade, extra thick insulated coolers.The packing container and gel packs are completely reusable! All live lobster orders are shipped next day and guaranteed to arrive on your scheduled date.
Lobster Handling
Store the lobsters, with their claws banded, resting on moist seaweed or damp newspaper in an open bag in the refrigerator until cooking time. Live lobsters should be cooked as soon as possible -preferably on the day they're delivered. For longer storage, wrap each lobster gently in damp newspapers and store in the coldest part of the refrigerator—usually the bottom shelf. Don't even think about the freezer! If you cannot cook your lobster the day you buy it, it is safer to cook it and chill the entire lobster. If kept in the shell it will keep for a couple of days in your refrigerator and be gently reheated for serving or eaten cold.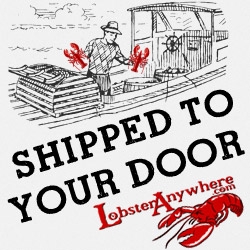 About LobsterAnywhere.com
LobsterAnywhere ships the same chowder made by our friends at the Chowder Factory. For over ten years, this online lobster company has shipped live lobster, lobster tails, and fresh seafood gifts coast-to-coast, and anywhere in between. Test the waters and Save $10 off your first order! Just enter code: ChowderFactory at online checkout. Get cracking at www.lobsteranywhere.com or call anytime at 1.888.85.Maine.
Posted in
Lobster Recipe
on 4 June 2013, and tagged
cheap lobsters
,
Live lobster
,
lobster online
,
lobster sizes
,
lobsters online
,
Maine lobster delivery

Digg This |

Save to del.icio.us |

Share on Facebook |

Tweet This |

Stumble This


Email This Post |

Subscribe by RSS